What is DKIM Record?
DKIM (DomainKeys Identified Mail) is a mechanism that allows senders to associate a domain name with an e-mail message. In technical terms, DKIM is a technique to authorize a domain to associate its name to an email message through cryptographic authentication.

DKIM has the following look in your account:
| | | | |
| --- | --- | --- | --- |
| Host | Type | Points to: | TTL |
| _domainkey.yourdomain.com | TXT | DKIM-specific-text | 3600 |
In ClouDNS, you can use it by creating a TXT record.
Why do you need a DKIM record?
DKIM provides an encryption key and digital signature that verifies that an email message was not forged or altered. The properly implemented DKIM record will improve the security of your email deliverability significantly.
How to create a DNS DKIM Record?
To create DKIM, go to your DNS Zone Control Panel, click on "Add new record" and type, as follow:
Type: TXT
Host: (something.)_domainkey
Points to: DKIM-specific-text
Notes:
Host: The host is given you by the domain key generator (it may be something._domainkey or only _domainkey)
Points to: DKIM-specific-text (this string here is also given by the DKIM generator)
You can see the example below: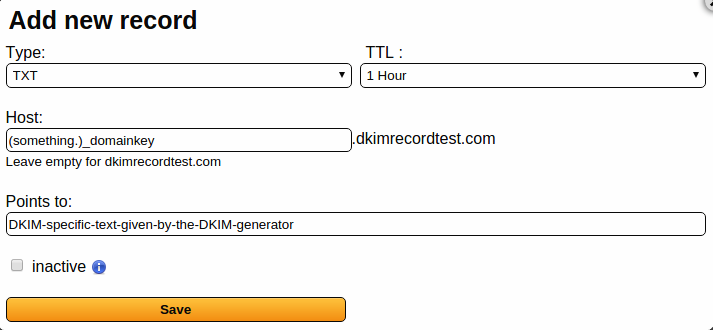 How to add a DKIM record - Step by Step video:
How to start managing DKIM records for your domain name?
Open free account from here - free forever
Verify your e-mail address
Log into your control panel
Create new Master DNS from the [add new] button - read more here
Add or modify the DKIM records you need as it is described in this article
Support of DKIM records
ClouDNS provides full support for DKIM records for all our DNS services, including the listed below. Just write to our technical support, if you need any assistance with your DKIM records configuration. Our Technical Support team is online for you 24/7 via live chat and tickets.
---
Last modified: 2021-07-05