Configure ImprovMX with own domain
What is ImprovMX?
ImprovMX is a free painless email forwarding for your domains. No fees. No registration. No clutter. One of the easiest ways to setup Mail Forwarding using ImprovMX is using our Records Templates. They allow you to create the necessary records in your Master DNS Zone.
How to activate ImprovMX for your own domain?
1. Open free trial account from
here
- free forever
2. Verify your e-mail address
3. Log into your control panel
4. Create new Master DNS zone with your domain from the [add new] button -
read more here
5. Click on the "Records Templates", located between "SOA settings" and "Cloud domains" buttons:

6. From the orange boxes, click on "ImprovMX"

7. From the button "Activate template" you will activate it and the records will be added to your zone. Those records can be edited afterwards.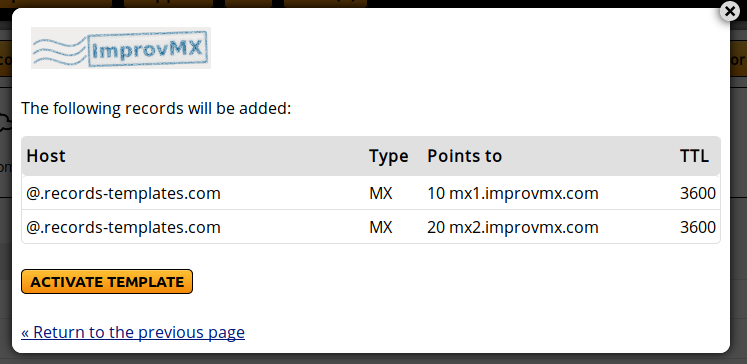 8. Add the other DNS records you need for the web site and so on.
9. Change the name servers (DNS servers) of your domain name to the DNS servers listed at the Dashboard of your control panel.
10. Wait up to 48 hours the DNS propagation to be completed and the ImprovMX integration will be working for you.
Need help?
If you need any other assistance please contact our Technical Support team from the Support menu in top of your control panel.
---
Last modified: 2017-11-16