Domain transfer is a straightforward procedure. People do it for different reasons: some are not happy with their current domain register's service, others were unpleasantly surprised by a price increase, and they decided to move to another.
Why should you move your domain name to ClouDNS
One year FREE – We offer you a one-year extension for free! You can enjoy the extra period at no additional cost. This means, if your domain registration is expiring on 26.09.2018, now the new period will be 26.09.2019.
Risk-free transfer – If the process got interrupted, something happened that stopped you from transferring your domain, or you just quit, you will get your money back. You will not suffer any downtime during this time.
Free DNS account – You can use all features of our Free DNS and easily upgrade to some of our Premium plans.
Seamless transfer – Your domain name's name servers are not altered anytime during the transfer process Hence your domain will not face ANY downtime during this process.
How to transfer your domain name
We will explain the necessary steps that you need to take to transfer your domain name to us:
1. Review your contact information with your current domain register. If you are using an e-mail from the domain you want to move, you better change to another mailbox like Gmail or Yahoo Mail. Like this, you won't have problems with the next steps.
2. Request to unlock your domain. You should do it in the control panel of your current domain registrar.
3. Request the Authorization Code (transfer code; domain secret; EPP code) from your current domain registrar.
4. Be sure you haven't moved your domain in the last 60 days, or you didn't register it during that period. The international regulator ICANN doesn't allow it.
5. Now go to our website and register or sign in to your account.  When you are done, select Transfer from the Dashboard. Add the domain name you want to transfer and check the Transfer Fee. There, you can see the future price for renewal. You will need to use the Authorization Code from step 3.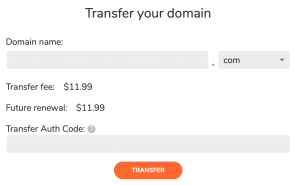 6. After confirming, you will get redirected to the cart. You will need to add your information. The fields with * are a must
7. Then you will need to choose a payment method (see the options).
8. Once the payment is completed and the transfer is started, your old registrar will contact you to verify the process.
9. You are done!
Welcome to ClouDNS! Now that you already successfully transferred your domain name, you can see other additional services that can come in handy like SSL certificates and Managed DNS services.
(Visited 548 times, 1 visits today)
Hi, I'm Martin Pramatarov. I have two degrees, a Technician of Computer Networks and an MBA (Master of Business Administration). My passion is storytelling, but I can't hide my nerdish side too. I never forgot my interest in the Hi-tech world. I have 10 years and thousands of articles written about DNS, cloud services, hosting, domain names, cryptocurrencies, hardware, software, AI, and everything in between. I have seen the Digital revolution, the Big migration to the cloud, and I am eager to write about all the exciting new tech trends in the following years. AI and Big Data are here already, and they will completely change the world!
I hope you enjoy my articles and the excellent services of ClouDNS!
Summary

Article Name
How to transfer your domain name?
Description
Transfering your domain name is fast and easy. We will explain the necessary steps that you need to take to transfer your domain and how you can get 1-year FREE extension on its period including Free DNS hosting.
Author
domain name
,
domain name transfer
,
domain register
,
domain registrar
,
domain transfer
,
free domain name
,
Managed DNS
,
moving domain
,
new domain
,
SSL certificate
Last modified: July 19, 2021