It is usually possible to hear the acronym DDI commonly mentioned when discussing network optimization. The funny thing is that it actually represents more acronyms – DNS, DHCP, and IPAM. Okay, let's break them down even more: Domain Name System, Dynamic Host Configuration Protocol, and IP Address Management. Yes, it is a bit long.
Let's explain a little bit more about DDI and give you more details about these three technologies separately and how they work.
What is DDI?
DDI represents the integration of three core components of networking – DNS, DHCP, and IPAM into one management solution. All three parts are essential.
DNS guarantees the association of hostnames and IP addresses. In addition, it provides access routing to applications and services in order to maintain HTTP web traffic and network traffic flowing. DHCP assists by automatically assigning a dynamic IP address for nodes logging into the precise network. IPAM comes in handy by providing efficient management of IP addresses all over the particular network. All of them together form DDI.
DDI is commonly implemented, and it is extremely beneficial for organizations that manage and control massive IP resources. Oftentimes businesses centralize DNS, DHCP, and IP address services into one particular platform in order to make their network administration better and more effortless. Moreover, DDI solutions can benefit IT organizations with multi-cloud environments by incorporating multi-cloud network management centrally. That way, they guarantee a reliable and smooth process. For instance, organizations using multiple cloud service providers can manage all clouds in one place.
Now, after you are aware of what DDI is, let's dive deeper and explain a little bit more about the three main components – DNS, DHCP, and IPAM.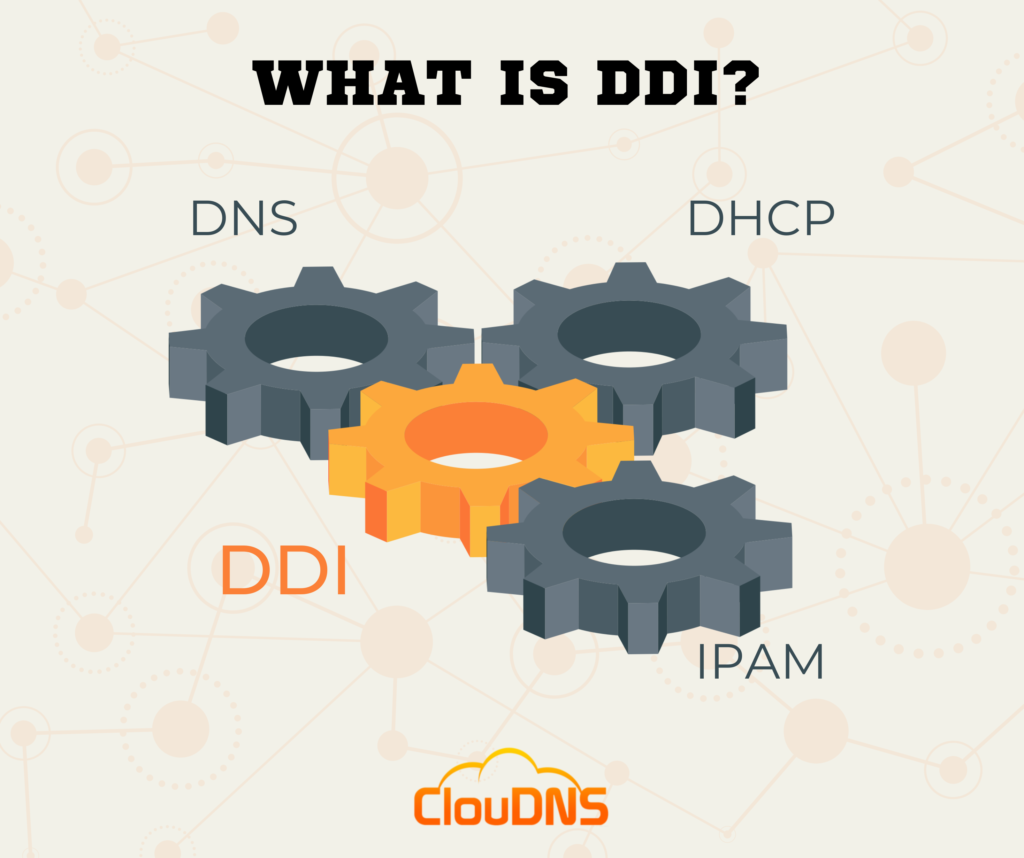 DNS explained
The Domain Name System (DNS) translates IP addresses (IPv4 or IPv6) into human-friendly domain names. That is why it is commonly called the phonebook of the Internet, and it is one of the main components of the global network. At its core, it is a hierarchy-built naming system that stores all existing domain names and their corresponding IP addresses.
Without DNS, regular users would have to memorize long and difficult strings of numbers (IP addresses) in order to connect and explore their desired websites. So instead, we use domain names, which are way easier to use. The Domain Name System relies on various different DNS records, like A, AAAA, PTR, CNAME, and many others, to store essential data about the domain name. Most importantly, machines and all devices could not communicate without DNS.
Without a doubt, the Domain Name System is a crucial component of the DDI. Beyond everything, DNS connects users to websites and services, which pushes the HTTP web traffic. Combining it with DHCP or IPAM gives the ability to network administrators to update and modify DNS records effortlessly. In addition, timely management guarantees the effective transfer of services if IP addresses change.
What does DHCP mean?
DHCP is the short acronym for Dynamic Host Configuration Protocol, which is a popular network management protocol. Its main purpose is to dynamically allocate unique IP addresses to the devices connected to the precise network. But, more importantly, the assignment of IP addresses is completed entirely automatically. There is no need for human involvement in the process.
Let's say, for instance, that a new device wants to connect to a particular network:
It asks for an IP address from a DHCP server.
The DHCP server provides the IP address to the device automatically.
The new device is able to connect without any difficulties to the precise internal network.
The great thing about DHCP is that the process of assigning IP addresses is automatic, guaranteeing fewer errors in the configurations of devices. In addition, network administrators are not required to perform this task manually, leaving more spare time for more complicated tasks. You can add and update DHCP ranges, or scopes, by defining the scope of IP addresses that is available for usage. That means you can avoid IP conflicts by guaranteeing that one device obtains just one IP.
Combining DHCP with IPAM is a great opportunity for total automation and centralization. Without DHCP, network administrators would have to assign the IPs based on the IP resource plan manually. Yet, DHCP is not able to give a complete understanding of the entire picture without IPAM.
IPAM – What is it?
IP address management, or just IPAM for short, is a fundamental element of the DDI that allows organizing, monitoring, and controlling a network's IP address pool.
The IPAM software is extremely beneficial because it allows network administrators to manage IP addresses effectively. It also involves examining the collection of IP addresses (assigned and not) and additional information about subnets and hardware. The great thing about IPAM is that it lets network administrators view IP address records and the whole system just on one interface. By collecting all of the data in one place, network administrators can easily analyze and maintain the infrastructure resources up to date.
Besides, IPAM could be helpful in noticing possible network abuses or breaches associated with particular IP addresses. By following IP address assignments and tracking usage patterns for administrators is easier to recognize probable security issues and network vulnerabilities.
In DDI, DNS and DHCP are accountable for the technical functionalities, while IPAM supplies management and planning functions. Meaning network administrators are able to configure hardware automatically without IPAM. However, they would only have a partial sight of the whole IP pool.
Benefits of DDI
DDI combines three very important and extremely useful elements – DNS, DHCP, and IPAM. For that reason, it is considered an amazing unique packaged solution that offers a straightforward approach to the network architecture. The integration of DNS, DHCP, and IPAM services in one solution – DDI comes with some essential benefits.
Automatization of network management
DDI centralizes and automates fundamental network services and eliminates manual configuration tasks. As a result, it makes the management of the IP-based network more effortless and decreases the chance of configuration errors.
In addition, organizations are able to, with small steps, supply automated provisioning of IP resources by incorporating DDI deployment models. Let's say, for instance, a company already maintains several DNS servers and a DHCP server. It can integrate IPAM and complete the automation and resource centralization, achieving DDI.
That way, DDI will optimize the workload for the network administrators in the organization. It can save time and leave space for completing more complex and important tasks.
Improves network efficiency
Once DNS, DHCP, and IPAM (DDI) are automated, they can guarantee the smooth operation of the organization's network. Additionally, they are able to lower the chance of appearing configuration management errors. That way, organizations are able to keep their network traffic flowing plus to minimize network downtime.
By centralizing the core network services with DDI, administrators are able to view clearly all of the information and settings in one place. Based on that, DDI can be helpful for troubleshooting various problems and easing network provisioning.
As organizations grow, the demand for IP addresses and network resources also increases. DDI solutions are designed to adapt to scalability seamlessly. Additionally, network administrators can easily assign and manage IP addresses and DNS records to support a growing number of devices. That way, it ensures that the network can adjust to changing requirements without disruptions.
Security is a primary concern for modern networks, and DDI can significantly enhance network security. By centralizing DNS, DHCP, and IPAM, administrators can establish stricter control and implement security policies across the entire network. As a result, it reduces the risk of unauthorized access, DNS-related attacks, and IP address conflicts, making it easier to detect and prevent security breaches.
By optimizing network resources and reducing the need for manual intervention, DDI solutions contribute to cost savings. They help minimize downtime, improve network performance, and reduce the administrative overhead associated with network management, ultimately providing a strong return on investment.
Why do you need DDI?
Sometimes, managing DNS, DHCP, and IPAM individually could be risky. Therefore, using a centralized solution like DDI helps network administrators to see and control their networks easily from one place.
There is no doubt that DDI solutions make things simpler for network teams. Records are updated in real time. That way, it reduces the gap between records and actual IP address usage.
A lot of IT organizations consider DDI as a crucial networking technology. In present days, the growth of multi-cloud and numerous devices is massive, which makes this solution more important than ever. Moreover, it helps tackle evolving security threats that traditional network security struggles with. An integrated DDI solution helps automate and manage DNS, DHCP, and IPAM interactions more effortlessly. This is essential for handling the growing number of IP addresses and the dependence on core network services by businesses.
Conclusion
By combining DNS, DHCP, and IPAM, DDI is highly beneficial for optimizing your network performance. Each one of the components is extremely valuable for the proper and satisfying operation of DDI. Each one of them has a specific and very important role.
(Visited 1,379 times, 1 visits today)
Hello! My name is Vasilena Markova. I am a Marketing Specialist at ClouDNS. I have a Bachelor's Degree in Business Economics and am studying for my Master's Degree in Cybersecurity Management. As a digital marketing enthusiast, I enjoy writing and expressing my interests. I am passionate about sharing knowledge, tips, and tricks to help others build a secure online presence. My absolute favorite thing to do is to travel and explore different cultures!
DDI
,
DHCP
,
DNS
,
Domain Name System
,
Dynamic Host Configuration Protocol
,
IP Address Management
,
IPAM
Last modified: November 7, 2023